How to apply for 2018 World bank N3million – N10million Grant for Grassroot Businesses in Nigeria Coordinated by 3 major NGOs
World Bank Introduces Grants For Grassroots Business in Nigeria
The World Bank has taken a step to promote the Nigerian economy through the banking sector as it seeks to empower grassroots businesses through microfinance banking system.
The project, which is called "bottom-up" project, will involve the release of over N10 billion grants to start up modern microfinance banks that will in turn, empower billions of grassroots businesses courtesy the World Bank.
Development Bank of Nigeria (DBN) will oversee transfer of the grant from the World Bank to the micro finance banks while the Social Exchange will be in charge of registration of the model microfinance banks.
The project, an initiative from World Bank, is channeled towards eradicating poverty and seeks to achieve this by creating modern microfinance banks in the grassroots.
This was made public in training on microfinance bank management for bank chairmen, directors and other stakeholders organized by the Kingdom Wealth Multipurpose Cooperative Society for the South -West region in Lagos.
Speaking at the event, Dr. Mike Alatise, the South-West Regional Coordinator of Kingdom Wealth Multi-purpose Cooperative Society, said the World Bank has set aside N10billion per bank to empower small-scale businesses with the modern microfinance banks, which in turn will deal directly with the business owners.
"Any model microfinance bank that wants to get involved in the grant disbursement must have a minimum of 1000 members with their genuine business proposals without which such bank would be denied registration and entitlement for the World Bank grant," Akpan stressed.
Social Exchange Market Grant Empowerment
Our team of experts in affiliation with Development Bank of Nigeria have been able to reach an agreement to provide grants to the teeming Nigerian youth (age bracket 16-60 years). This grant is open to Nigerians without gender-biased and will be duly monitored to achieve its main aim of empowering youth in their various entrepreneurial pursuit.
The main focus of this grant is towards agriculture; most importantly, while other fields of life are duly welcome. Please note that the grants given will be meticulously monitored to ensure that the funds are used judiciously.
Programme Eligibility
The Social Exchange Market Empowerment is open to all citizens of Nigeria that do business within the borders of Nigeria. Applicants must also have a feasible business or project to put forward. However, preference would be given to agro-allied businesses as it is the main focus of this empowerment programme. This does not hinder other non-agro-based businesses from applying.
Each of the 3 NGO's Cordinating this project will empower 10 million Nigerians, and by cumulative effect, 50 million Nigerians will be employed.
The grants flow from World Charity Box, then to Social Exchange Market, to DBN, then to Model Microfinance Banks, and finally to applicants of the financial aid. Such an employment chain is said to generate wealth for individuals and as well add to national GDP.
Bethany Human Development Centre, one of the NGO website reads, "We are using the grant to promote
1, Agricultural Practices with values added  
2, Production of finished goods of various kinds 
3, Manufacturing  
4, Processing of raw materials of various kinds
5, Skill and talent driven market.
The age range is between sixteen (16) and sixty five (65)." Educational qualifications are not relevant.
How to apply for 2018 World bank N3million – N10million Grant for Grassroot businesses in Nigeria coordinated by 3 major NGOs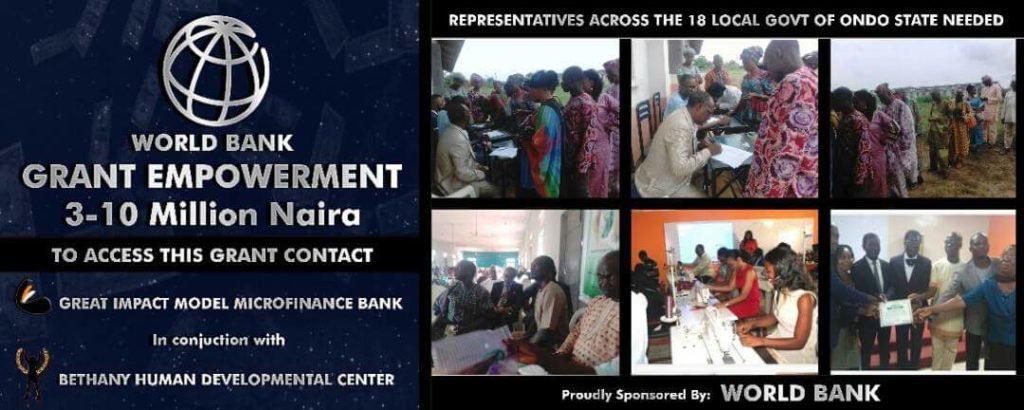 Through the Bethany Human Development Centre, one of the NGOs
SOCIAL EXCHANGE MARKET – BHDC GRANT || REGISTRATION PROCEDURE
It is the businesses of the people in a particular location that change the economy of that area. To change Nigeria economically, more businesses must be enlisted under this nation.
In order to partake in this on-going grant program, here are Step by Step approach to it.
Follow this steps:
Have a passion for economic revolution of a community, town or city in Nigeria

Have a business/investment that you want to establish under such particular community, town or city

Look for like-minded people of the same business/investment or with different business/investment in that community, town or city.

Approach Bethany Human Development Center for membership Registration indicating details of your location and your group intention.

Mobilize minimum of 1000 business/investment within the reach of your group in that community, town or city.

Attend Seminar/Workshop organized by BHDC and be certified

Grant is released by Social Exchange Market for each project enlisted in that community, town or city under the group.
Note:
Each business/investment will be subjected to a standard follow up for proper implementation by Development Bank Of Nigeria, Social Exchange Market and Bethany Human Development Center.

Membership Registration of BHDC is #1000
Note that this is the first time they will do this package.
 I have decided to try it out.  And I will tell the people around me about it.
More explanation on the filling;
Address: office or home address..
 Project/business: Any legal project ranging from agriculture: oil plantation, cassava plantation, large scale vegetables farming, aquaculture, Animal husbandry, feed mill, food processing & packaging, Industrial fashion design, Furniture & carpentry, blocks & ring industry, concrete electricity production, private school, water production industry, Industrial bag production industry, gaari industry, pupuru/ cassava flour industry & so on.
Amount needed should not be less #3m & not be more Dan #10m.
Thank U.
For the Grant Application
MEMBERSHIP REGISTRATION FORM
Name:
Address:
Phone Number(s):
L.G.A.                                                                                  
State:
Next Of Kin:
Address:
Phone Number(s):
Empowerment Programme
Name__________________________________ Age____________________
Address________________________________________________________
Business/Project_________________________________________________
Amount Needed___________________________________________________
Contact Number___________________________________________________
World Bank Is Supporting Grassroots
Grants For Grassroots Business
Notice from Development Bank of Nigeria
Fraudulent Scheme Disclaimer
Development Bank of Nigeria (DBN) has been alerted of a fraudulent multi-purpose scheme that erroneously indicates that the World Bank is giving out grants to individuals to do business in Nigeria through DBN.
DBN wishes to inform the general public that it is not involved in this fraudulent scheme and will not be responsible for any loss or damage resulting from this fraudulent scheme.
DBN only disburses loans to MSMEs through Participating Financial Institutions (PFIs). To access a DBN Loan, please speak to your Bank.
The World Bank's attention has been drawn to a fraudulent multi-purpose, co-operative scheme being advertised in some local communities within Nigeria.  Several correspondences targeting innocent citizens are being circulated falsely claiming that the World Bank is giving out money to individuals to do business and demanding processing fees of N1000 from prospective awardees.
Please note that:
The World Bank is not behind this multi-purpose scheme

The World Bank does not request for personal financial information for applicants to its programs
The World Bank therefore advises the general public to verify any information regarding World Bank-assisted programs offered by the Bank at the following website: http://projects.worldbank.org/. The World Bank will not be held responsible for any refunds of fees solicited by fraudsters purporting to act on its behalf. 
Please Investigate this grant opportunity very well before applying with any of the NGOs because major stakeholders in the project have raised Scam Alert and Disclaimer
12 TOP BUSINESS GRANT OPPORTUNITIES AND BUSINESS FUNDING LOANS FOR SMALL BUSINESSES IN NIGERIA 2018
 This is a new way to make money in 2018 through Bit Club Advantage
How to Invest in Bit Club Advantage and Make Money in Nigeria
(B.Agric, MBA)
08105636015, 08076359735

Serial Entrepreneur - International Business Planning Consultant - Speaker - Trainer - Author - Blogger - Network Marketing professional

- Fellow, Inspire Africa Train-the-Trainer sponsored by US Consulate Lagos
- Fellow, Tony Elumelu Foundation Entrepreneurship Programme
- Top 50 Innovative Entrepreneurs, BET5 by Diamond Bank

He is an alumnus of Enterprise Development Centre (EDC) of the Lagos Business School (LBS), Pan-Atlantic University (PAU). Through his training, mentoring, speaking and coaching programmes, he has empowered many young people over the years to start and grow their own business, build wealth, create multiple streams of income and achieve financial independence.
Latest posts by Dayo Adetiloye (see all)