Apply For 2016 LiveWIRE Entrepreneurship Programme  for Youths  from Bayelsa, Delta and Rivers States.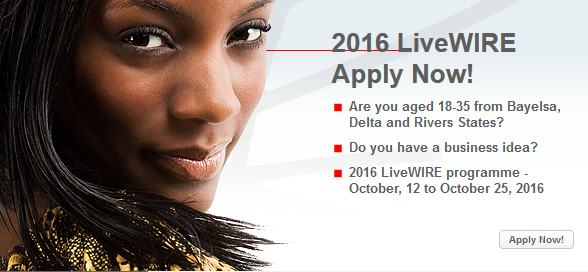 2016 LiveWIRE Apply
The Shell Petroleum Development Company of Nigeria Limited (SPDC), operator of the NNPC/Shell/ Total/Agip Joint Venture (SPDC JV) announces the  2016 LiveWIRE Nigeria Programme  for youths  from Bayelsa, Delta and Rivers States.
LiveWIRE is a youth enterprise development programme supported by the SPDC JV.  The programme aims to inspire, encourage and support young entrepreneurs aged 18-35 to start their own businesses through the provision of training and start-up finance.
The LiveWIRE programme objectives are to:
Enable youths to establish businesses by providing business planning and management skills through the 'Become a Successful Business Owner Course'.
Provide business startup grants for candidates with the best business plans.
Link successful candidates to third parties like banks, Non-Governmental Organisations (NGOs) and allied financial institutions.
Provide a volunteer mentoring programme for successful candidates.
Programme content

Pre-startup:- Value and Organise Yourself (VOY)
Bright Ideas workshop
Business Planning & Management (Become a Successful Business Owner)
Business Startup (How to access finance & technology)
Post startup (Mentoring, Incubation, Market linkages)
Applications eligibility 
Male and female applicants from Bayelsa Delta and Rivers States aged between 18-35;
Must possess a university degree or HND
Must possess the  NYSC discharge certificate or certificate of exemption;
Must be resident in Delta, Bayelsa, or Rivers States;
Must have an innovative business idea; and
Must desire to own and manage a business.
Important Notes

•    SPDC DOES NOT DEMAND PAYMENT FROM APPLICANTS.
The application is entirely FREE of charge.
•    SPDC DOES NOT ASSIGN 'Representatives'/'Agents' to assist in the application process.
•    Only shortlisted candidates will be contacted via email/sms.
How to apply
Applicants who meet the above eligibility criteria should apply online at: www.livewire-nigeria.org
Application period:
Wednesday October 12 to Tuesday October 25, 2016.
(B.Agric, MBA)
08105636015, 08076359735

Serial Entrepreneur - International Business Planning Consultant - Speaker - Trainer - Author - Blogger - Network Marketing professional

- Fellow, Inspire Africa Train-the-Trainer sponsored by US Consulate Lagos
- Fellow, Tony Elumelu Foundation Entrepreneurship Programme
- Top 50 Innovative Entrepreneurs, BET5 by Diamond Bank

He is an alumnus of Enterprise Development Centre (EDC) of the Lagos Business School (LBS), Pan-Atlantic University (PAU). Through his training, mentoring, speaking and coaching programmes, he has empowered many young people over the years to start and grow their own business, build wealth, create multiple streams of income and achieve financial independence.
Latest posts by Dayo Adetiloye (see all)