ATTEND A WHATSAPP TRAINING ON THE 11TH OF MAY ON HOW TO GET 15 LAPTOPS, 1 ELANTRA HYUNDAI CAR AND OVER N3MILLION IN ONE YEAR IN H2I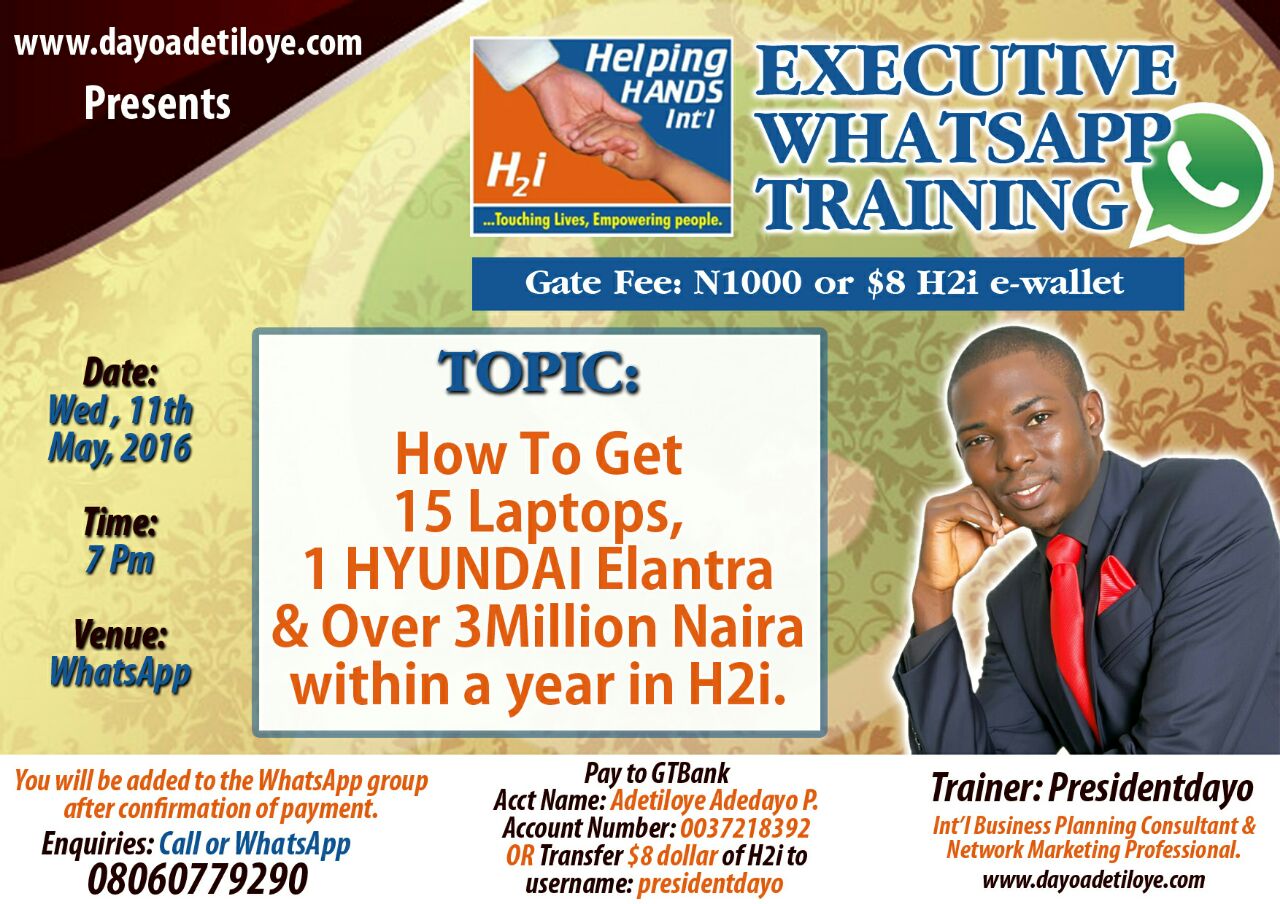 Hello My Dear  Friend,
How are you and family,
I believe you have joined Helping Hands International or you are about to join.
As a result of so many people that wanted to really know how to do this business and get all these rewards in a short while, even though you belong to another group, we have prepared this whatsapp training for you.
I will share secrets of how I got my laptop in six weeks from Helping Hands and how you can get 15 of them in one year.
TITLE OF THE WHATSAPP SEMINAR:
HOW TO GET 15 LAPTOPS, 1 ELANTRA HYUNDAI CAR AND OVER N3MILLION IN ONE YEAR IN H2I
Date: 11th of May, 2016.
Time : 7pm
Venue: Whatsapp
Gate Fee: N1000 or $8 of H2i
Before I continue, remember that the difference between the rich and the poor is a function of 3 factors:
Risk, Information, Time (RIT). I am a student of the bible and no wonder the Bible says my people perish because they lack knowledge (information). Hosea 4:6.
If you are interested,
Send me a whatsapp request on 08060779290.
And i will tell you how to make payment and add you to the whatsapp group.
Remember,
Do you know you'll earn a total of about N 170,000 before you qualify for laptop in Helping Hands International?
Yes! With just ONE ACCOUNT…
You'll earn $16 referral bonus
2. You'll earn $10 matrix bonus of stage one
3. You'll earn $100 matrix bonus of stage two level two.
4. You'll earn $200 matrix bonus of stage two level three
5. You'll earn $300 matrix bonus of stage two level four
6. You'll earn $400 matrix bonus of stage two level five
Now let do the math:
($16 + $10 + $100 + $200 + $300 + $400)
= $1026
Yes! With only one account, you'll earn about $1026 (N170,000) before one laptop is added to you.
Imagine how much you'd earn with 15 accounts.
Learn more at the whatsaap training seminar.
Note: If you are just hearing about Helping Hands International, Click here to read more about it http://dayoadetiloye.com/helping-hands-international/
COWARDS NEVER START
THE WEAK NEVER FINISH
WINNERS NEVER GIVE UP
_YOUNG_MINDS
[[firstname]], I will like to hear from you!
Reply my mail or call me on 08060779290, or send me a whatsapp chat on the same number. My BB PIN is 58ECE9AC
Till I hear from you [[firstname]].
Keep succeeding!
Dayo Adetiloye (B.Agric, MBA)-
AUTHOR – CONSULTANT – SPEAKER – ENTREPRENEUR – BUSINESS ANGEL
Helping men to discover, develop and fulfil their business potential.
…Raising 100 Young Millionaire Entrepreneurs in Five Years… since July 2012
08060779290, 08174584556
(B.Agric, MBA)
08105636015, 08076359735

Serial Entrepreneur - International Business Planning Consultant - Speaker - Trainer - Author - Blogger - Network Marketing professional

- Fellow, Inspire Africa Train-the-Trainer sponsored by US Consulate Lagos
- Fellow, Tony Elumelu Foundation Entrepreneurship Programme
- Top 50 Innovative Entrepreneurs, BET5 by Diamond Bank

He is an alumnus of Enterprise Development Centre (EDC) of the Lagos Business School (LBS), Pan-Atlantic University (PAU). Through his training, mentoring, speaking and coaching programmes, he has empowered many young people over the years to start and grow their own business, build wealth, create multiple streams of income and achieve financial independence.
Latest posts by Dayo Adetiloye (see all)