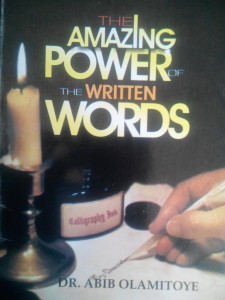 BOOK REVIEW: THE AMAZING POWER OF THE WRITTEN WORD
To buy this book, send a request to dayoadetiloye@gmail.com. It will be posted to you anywhere you are in Nigeria.
We all have wings only few people know, of those who know, fewer people know how to use them. This book will show you the lost wings and guide you as to the way to gainfully employ them so you stop crawling and start flying.
Author – DR. ABIB OLAMITOYE
No of pages – 44
Website – www.hundredtenacademy.com
© Copyright February, 2015.
Published by in Nigeria by 100/10 Publications
PART A
THE POWER OF WRITTEN WORDS
The words you use, what you tell yourself about you. Always have a great impact on what manifest in your life.
Writing affirmations teaches and enables progressive development and mastery of focus and concentration.
The key to effectiveness is written affirmation is to catch yourself loosing concentration or thinking outside the context of what you write and to return your attention to embrace the idea behind what you write
PART B
THE AMAZING POWER OF WRITTEN WORDS
Letter to GOD
"What lies behind us and what lies before us are small matter compared to what lies within us" –Ralph Waldo Emerson
The Idea of writing a letter toGod is not new. Many great and successful people have done this form of exercise at one point in their lives.
Write a detailed letter to the Almighty GOD in which you touch your journey so far since you can arrive on this planet earth.
PART C
THE MENTOR WITHIN
"Never trust anyone completely but GOD. Love people, but put your full trust only in GOD" –Lawrence Welk
We define a mentor as a caring, experienced and trusted person that carries the will and capacity to help. The almighty GOD is in the best position to truly satisfy these conditions. GOD is the most qualified mentor.
The more you write and then wait for response from God, the more you cultivate reliance, the more recognize the message or institution that comes from God when they begin to arrive. This is an effective, a deliberate approach to build peace of mind, trust and reliance on GOD
The Author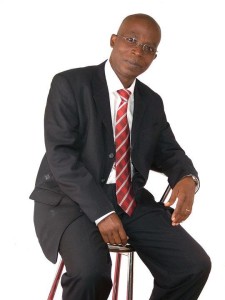 Dr Abib Olamitoye is a purpose driven and self motivated medical practitioner and a business leader. He is the chairman and chief executive offices of Ibadan centre hospitals, Ibadan, Tolu medical centers, Lagos and academy suites, Ibadan.
He is the author of executive stress management, and all the want I What My Child to Know Series; What I What My Child to Know about Money. What I Want My Child To Know About Building A Great Life. What I Want My Child To Know About Growing Money Trees, How To Create A Business That Thrives In Your Absence. He is also the author of Love Yourself, Pay Yourself First.
He is the founder and facilitator of 100/10 academy, a human outfit established with a vision of creating 100 billionaires among its members. He is happily married with two children
To buy THE AMAZING POWER OF THE WRITTEN WORD
follow this procedure:
Price: N500
Posting cost: N200
Total: N 700
Pay into any of the following Accounts:
You can pay to any of these accounts through cash or online transfer
Bank: GT BANK
Account Name: Adetiloye Adedayo Patrick
Account Number: 0037218392
Account Type: Savings
Bank: ACCESS BANK
Account Name: Adetiloye Adedayo Patrick
Account Number: 0033807847
Account Type: Savings
Bank: DIAMOND BANK
Account Name: HUNDRED AND FIVE ACADEMY
Account Number: 0041562713
Account Type: Current
Bank: FIRST BANK
Account Name: Adetiloye Adedayo Patrick
Account Number: 3087803393
Account Type: Savings
After, you call Rofiat on: 08144382968
Then text your details for THE AMAZING POWER OF THE WRITTEN WORD:
Your full Name
The bank you paid to and the amount
The post office box you want us to send it to
You will receive your package containing THE AMAZING POWER OF THE WRITTEN WORD in 5 working days.
This book review was compiled by Omoniyi Rofiat.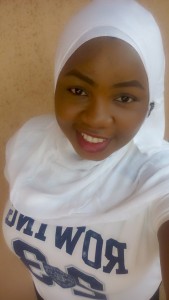 She is an Associate Business Consultant at Dayoadetiloye.com
She has Professional Diploma in Computer science.
She loves reading and dancing.
(B.Agric, MBA)
08105636015, 08076359735

Serial Entrepreneur - International Business Planning Consultant - Speaker - Trainer - Author - Blogger - Network Marketing professional

- Fellow, Inspire Africa Train-the-Trainer sponsored by US Consulate Lagos
- Fellow, Tony Elumelu Foundation Entrepreneurship Programme
- Top 50 Innovative Entrepreneurs, BET5 by Diamond Bank

He is an alumnus of Enterprise Development Centre (EDC) of the Lagos Business School (LBS), Pan-Atlantic University (PAU). Through his training, mentoring, speaking and coaching programmes, he has empowered many young people over the years to start and grow their own business, build wealth, create multiple streams of income and achieve financial independence.
Latest posts by Dayo Adetiloye (see all)