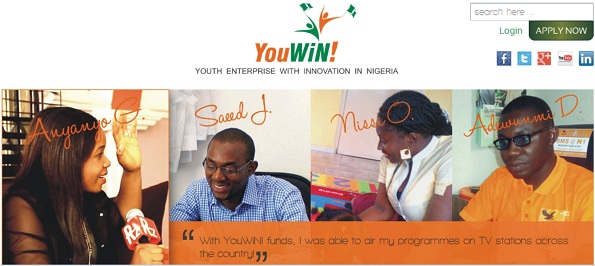 This YouWin business plan competition is not limited to students.
YouWiN! 3 is the third edition and will feature men and women entrepreneurs in Nigeria between the ages of 18 to 40.
Our organisation called, 100/5 Academy, a social enterprise, with a vision of raising 100 millionaires Youth Entrepreneurs in Five years, worked with some students in the last business competition organised for women. We have four of the ladies won 10 million naira each as grant to start business.
More Information for the competition line is available at www.youwin.org.ng
To contact us to work with you on this last business plan competition, call: 08060779290, 08174584556 or send e-mail to: dayoadetiloye@gmail.com

What is YouWiN!?
YouWiN! stands for Youth Enterprise with Innovation in Nigeria. It is an innovative business plan competition aimed at job creation by encouraging and supporting aspiring entrepreneurial youth in Nigeria to develop and execute business ideas.
The accomplishments of the 1,200 YouWiN! awardees were celebrated at the Presidential Villa on April 12, 2012. YouWiN! Women was the second edition of the entrepreneurial scheme, which was designed for only female entrepreneurs aged 45 years or less.
YouWiN! 3 is the third edition and will feature men and women entrepreneurs in Nigeria between the ages of 18 to 40.
Specific Objectives of the YouWin Programme:
Attract ideas and innovations from young entrepreneurial aspirants from Universities, Polytechnics, Technical colleges, and other post-Secondary institutions in Nigeria;

Provide a one time Equity grant for 1,200 selected aspiring entrepreneurs to start or expand their business concepts and mitigate start up risks;

Generate 80,000 to 110,000 new jobs for currently unemployed Nigerian youth over the three years during which the three cycles will be implemented;

Provide business training for up to 6,000 aspiring youth entrepreneurs spread across all geo-political zones in Nigeria;

Encourage expansion, specialization and spin-offs of existing businesses in Nigeria; and,

Enable young entrepreneurs to access a wide business professional network and improve their visibility.
(B.Agric, MBA)
08105636015, 08076359735

Serial Entrepreneur - International Business Planning Consultant - Speaker - Trainer - Author - Blogger - Network Marketing professional

- Fellow, Inspire Africa Train-the-Trainer sponsored by US Consulate Lagos
- Fellow, Tony Elumelu Foundation Entrepreneurship Programme
- Top 50 Innovative Entrepreneurs, BET5 by Diamond Bank

He is an alumnus of Enterprise Development Centre (EDC) of the Lagos Business School (LBS), Pan-Atlantic University (PAU). Through his training, mentoring, speaking and coaching programmes, he has empowered many young people over the years to start and grow their own business, build wealth, create multiple streams of income and achieve financial independence.
Latest posts by Dayo Adetiloye (see all)