HOW DOES H2I MAKE THEIR MONEY?
After today,no partner in here is expected to stammer when asked how H2I makes their money because you will be fully informed here…
1. CORPORATE SPONSORS: H2i has corporate sponsors who have a sponsorship MOU with them like HYUNDAI MOTORS Korea, APPLE INC.USA, HP CORP.USA, GAC MOTORS GERMANY..
These organizations give out their products to H2i as part of their donation.
These organizations believe in Corporate Social Responsibility (CRS) and they ve seen something worthy of supporting in H2i.
2. Donations: Each registration into d H2i  programme is a donation to charity
20% of this amount is paid out as referral bonus while d remaining 80% goes into H2i pool for use.
So it means every person you bring and your downlines. . there's circulation of money ..you get paid from the money of the person you are bringing 
3. FREE WILL DONATION: Some persons donate but re not interested in running it as a business.
4. PHILANTHROPY: Some individuals wills their asset to H2i or some of it. This could be either at their death or deductions from their trusts, foundations or accounts to H2i on a monthly basis or as specified.
Finally remember since its a networking and money comes in,definitely profit also comes in…just same way banks get money to pay their staff from the money people are dropping with them .
To join My team where we will training you to get your laptop in Helping hands international in six (6) weeks and also get your car in 1 year maximum.
Click here and put your detail,  your name and email.
For More Information and explanation call or send a Whatsapp chat to 08105636015, 08076359735 and learn secrets of how I qualify for my Laptop in six weeks.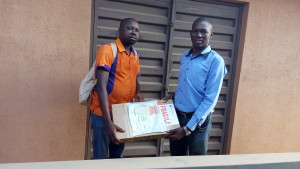 Call any of my Team Leaders to Join my fastest Growing Team today
To Work With My Team,

I have two options for you.
1. New Member
If you are new and you have not joined any team and you will like to join my team, send me a whatsApp message on +23408105636015, +2348076359735 and i will register you with minimum of one account N6,600 before adding  you to our training whatsApp group for grounded knowledge of how to start strong and get all your rewards like laptops and cars faster with my 14 months experience in H2i. With that knowledge, you can increase your account to 3, 5,7,9, 15, 30, 100, 255. You can do this business from any where around the world. I have downline in Zambia and Tanzania is currently loading. If you don't have whatsaap, call me on +23408105636015, +2348076359735.
2. Old Member
If you are already Joined but you are looking for more knowledge and strategy to do the business well, you are welcome and you are in a good place.
I will encourage you to buy my e-book on H2i strategy especially on managing multiple accounts and getting prospects. Price: N2000 or $15 of H2i through your e-wallet. After buying the book, i will add you to my whatsApp training group i created for people that are not in my team but are undergoing training through the e-book. Trust me, people are getting results.
CLICK the link below to buy it.
http://dayoadetiloye.com/mastering-business-helping-hands-international/
H2i is operated in teams, don't be left alone
North West/ North East/ North Central
Ayobami Obawura, Abuja Nigeria, 08035868571, 08185318435
Muhammad Bello, Northern Nigeria, 08054298395
Fatima Hamman, kaduna, 08069655390
Tunde Olatunji, Katsina 08039515252
SouthWest, Nigeria
Ndidi Uche, Lagos 08034254040
Bolanle Aderamo, Ibadan, Oyo state, 08025151577
Honaan Andrea, Lagos 08066053107
Akinyemi Femi, Ile-Ife, Osun state 07030450130,
Aneke Chinaza, Lagos 09038996349,
Gbenga, Ibadan 08120528950
Abiodun Odeyemi, Ilesha, Osun state, 08164713876
Oyeronke, Akure, Ondo state 08061633120,
Folake Owolabi, Akute Ogun state, 08098943474
Ayodeji, Ado-Ekiti, 08030609917
Olaomi Oladotun , Abeokuta, Obantoko 08134737412,
South East/SouthSouth Nigeria
Thompson Ife Momodu, Benin city, 08169739598
Collins , Port Harcourt , Stadium Road 08063813082,
Jesse Bram, Akwa Ibom, Imo state 07065839997,
Nkere Chinyere, Calabar 07065273439
Ijeoma Chris Timothy, Umuahia, 08027324307
Ochije Stephen Sirwyte, Owerri, 08067252567
Peter Solomom, Akwan Ibom State, 08082470242
Chinenye Aniefiok, Calabar 08061535774
Other African Countries
Mariana Michelo, Zambia Livingston +260 976538907
Also Read: Everything You Need To know to Join Helping Hands International Today
How To Earn Money In Helping Hands International (H2i) in Nigeria
(B.Agric, MBA)
08105636015, 08076359735

Serial Entrepreneur - International Business Planning Consultant - Speaker - Trainer - Author - Blogger - Network Marketing professional

- Fellow, Inspire Africa Train-the-Trainer sponsored by US Consulate Lagos
- Fellow, Tony Elumelu Foundation Entrepreneurship Programme
- Top 50 Innovative Entrepreneurs, BET5 by Diamond Bank

He is an alumnus of Enterprise Development Centre (EDC) of the Lagos Business School (LBS), Pan-Atlantic University (PAU). Through his training, mentoring, speaking and coaching programmes, he has empowered many young people over the years to start and grow their own business, build wealth, create multiple streams of income and achieve financial independence.
Latest posts by Dayo Adetiloye (see all)