QUICK FACTS ABOUT H2i (WHAT IT IS & WHAT IT IS NOT)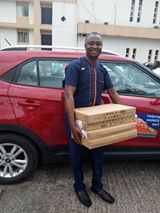 QUICK FACTS ABOUT H2i (WHAT IT IS & WHAT IT IS NOT)
1. H2i* is a worldwide renowned *NGO.
*2. H2i* is registered in Nigeria as an NGO with the Corporate Affairs Commission (CAC).
*3. H2i* is a humanitarian and philanthropic  organisation.
*4. H2i* is a MULTILEVEL MARKETING (MLM) networking organisation.
*5. H2i* is sponsored by renowned multinational organisations like *Hyundai Motors, GAC Motors, Apple, Hewlett Packard, Lenovo, Glo, Diamond Bank, LG* etc.
*6. H2i* works through the pool of resources donated by partners like all registered members here who share its vision.
*7. H2i* membership registration is a one- time donation of *$40 or N6,600* only either once or up to 15times.
*8. H2i* is committed to eradication of poverty from the surface of the earth.
Watch My H2i Car award video, this can be you if you give this business 2-3 years of hard work
*9. H2i* is the best MLM organisation. No selling of physical products like drugs, supplements, tea, health & beauty enhancers etc.
*10. H2i* activities are monitored and foolproof through effective use of Internet tools.
*11. H2i* has a robust rewarding incentive/package for its members growing from stages 1 to 5.
*12. H2i* is not a scam or fraud.
*13. H2i* is not a wonder bank or hyip.
*14. H2i* is not a lotto, casino or gambling.
*15. H2i* is not a religious organisation but teaches religious tolerance by admonishing partners to be good ambassadors and best adherents of whatever faith they belong.
*16. H2i* is not a cult or secret society.
*17. H2i* is not affiliated to any other network.
*18. H2i* is not a trading consortium but teaches members on trade and skill acquisition to be independent,  generate income and gainful employment.
*19. H2i* is not for unserious and lazy people.
*20. H2i* is the business of the moment, the 21st century. H2i makes sense! H2i rocks!!
*MAKE YOUR DONATING TODAY*
13200  – 2 accounts
19,800 – 3 accounts
46,200 – 7 accounts
N99,000 – 15 accounts
204,600  -31 accounts
415,800 -63 accounts
838,200-127accounts
1,683,000-255accounts
6,758,400-1024accounts
*PICK YOUR STRATEGY. REMEMBER MULTIPLE ACCOUNTS ROCKS. THE HIGHER THE ACCOUNTS THE HIGHER YOUR EARNINGS
To join My team where we will training you to get your laptop in Helping hands international in six (6) weeks and also get your car in six (6) months maximum.
To Work With My Team,

I have two options for you.
1. New Member
If you are new and you have not joined any team and you will like to join my team, send me a whatsApp message on +2348060779290 and i will register you with minimum of one account N6,600 before adding  you to our training whatsApp group for grounded knowledge of how to start strong and get all your rewards like laptops and cars faster with my 14 months experience in H2i. With that knowledge, you can increase your account to 3, 5,7,9, 15, 30, 100, 255. You can do this business from any where around the world. I have downline in Zambia and Tanzania is currently loading. If you don't have whatsaap, call me on +2348060779290.
2. Old Member
If you are already Joined but you are looking for more knowledge and strategy to do the business well, you are welcome and you are in a good place.
I will encourage you to buy my e-book on H2i strategy especially on managing multiple accounts and getting prospects. Price: N2000 or $15 of H2i through your e-wallet. After buying the book, i will add you to my whatsApp training group i created for people that are not in my team but are undergoing training through the e-book. Trust me, people are getting results.
CLICK the link below to buy it.
http://dayoadetiloye.com/mastering-business-helping-hands-international/
For More Information and explanation call or send a Whatsapp chat to any of my team leaders below and learn secrets of how I qualify for my Laptop in six weeks.
Call or/Whatsaap any of the following leaders who have received more than 2-3 Laptops in H2i in less than 1 year to Join my fastest growing team today.
Tell them you are from PresidentDayo.
Our Team's Strategy is Minimum of 7 Account Registration, We don't Register one account.
We strongly advise you do 15 Account when you call us.
North Central/North East/North West Nigeria
Alile Tosin Osaze, Abuja, 08035381137
Ayobami Obawura, Abuja Nigeria, 08035868571
Fatima Hamman, kaduna, 08069655390
Tunde Olatunji, Katsina 08039515252
Josiah , 08036120571, Lokoja, Kogi State
SouthWest, Nigeria
Leke Olutoye, Lagos, 08088000639
Ndidi Uche, Lagos 08034254040
Bolanle Aderamo, Ibadan, Oyo state, 08025151577
Honaan Andrea, Lagos 08066053107
Akinyemi Femi, Ile-Ife, Osun state 07030450130,
Aneke Chinaza, Lagos 09038996349,
Gbenga, Ibadan 08120528950
Abiodun Odeyemi, Ilesha, Osun state, 08164713876
Oyeronke, Akure, Ondo state 08061633120,
Folake Owolabi, Akute Ogun state, 08098943474
Ayodeji, Ado-Ekiti, 08030609917
Olaomi Oladotun , Abeokuta, Obantoko 08134737412,
South East/South South Nigeria
Thompson Ife Momodu, Benin city, 08169739598
Collins , Port Harcourt , Stadium Road 08063813082,
Jesse Bram, Akwa Ibom, Imo state 07065839997,
Nkere Chinyere, Calabar 07065273439
Ijeoma Chris Timothy, Umuahia, 08027324307
Ochije Stephen Sirwyte, Owerri, 08067252567
Peter Solomom, Akwan Ibom State, 08082470242
Chinenye Aniefiok, Calabar 08061535774
Other African Countries
Mariana Michelo, Zambia Livingston +260 976538907
After contacting them, Request to be added to my whatsapp training Group where I coach people to get their laptop in H2i in six weeks and also raise capital to start their business from a lot of Dollars they will make in Helping Hands International.
I recommend that you start this business with 15 accounts if you have the money which is N99,000 and you have N23,000 back and your first 3 account will be in stage 2. But if you don't have money , do your one account which is N6,600 and just go home with one laptop instead of 15 laptops and lots of dollars.
Call any of the numbers close to you now!
After your registration, when you become a leader, we also help you with advert, like I am helping my team leaders now.
H2i Rocks!!!
QUICK FACTS ABOUT H2i (WHAT IT IS & WHAT IT IS NOT)
(B.Agric, MBA)
08105636015, 08076359735

Serial Entrepreneur - International Business Planning Consultant - Speaker - Trainer - Author - Blogger - Network Marketing professional

- Fellow, Inspire Africa Train-the-Trainer sponsored by US Consulate Lagos
- Fellow, Tony Elumelu Foundation Entrepreneurship Programme
- Top 50 Innovative Entrepreneurs, BET5 by Diamond Bank

He is an alumnus of Enterprise Development Centre (EDC) of the Lagos Business School (LBS), Pan-Atlantic University (PAU). Through his training, mentoring, speaking and coaching programmes, he has empowered many young people over the years to start and grow their own business, build wealth, create multiple streams of income and achieve financial independence.
Latest posts by Dayo Adetiloye (see all)