Call for Volunteers for Ondo State Youth Empowerment Summit 2019
Dayo Adetiloye Empowerment and Development Initiative (DAEDI) – is a non-profit organization committed to education, empowering and inspiring the development of underserved individuals and communities, especially youths and women through effective, innovative and tried and tested development approaches that are relevant for African context.
We are a capacity development initiative that connects the community youth with training, internship and mentor-ship opportunities and periodic vocational trainings for youths in the region.
Every year, 200 volunteers donate their time to help make the Ondo state Youth Empowerment Summit success. Volunteers assist before, during and after the summit in a number of areas depending on their interests,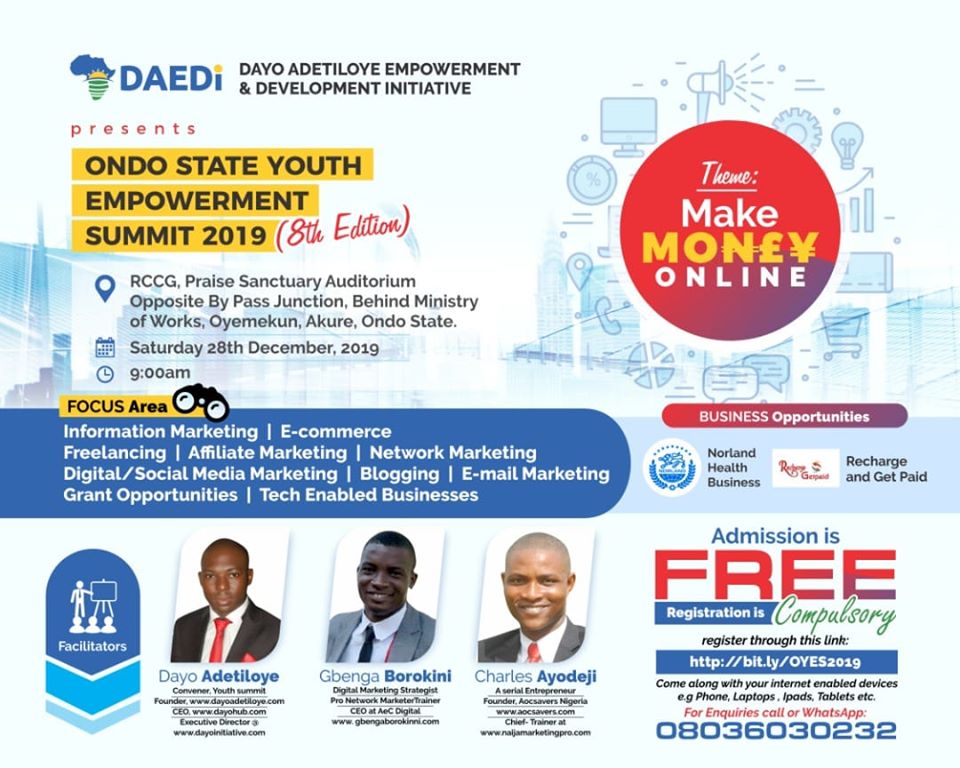 There are various areas the Volunteers can be of help:
Publicity,
Fund Raising,
Publications,
Ushers and Security, Online Content,
Graphics, and Design, Decoration,
Promo! Promo!! Promo!!! Click here to get our business for 10,000 Naira....
- click here.
Press Liaison,
Red Carpet and Media.
Various needs on the event day as they come up
Volunteering is an act of people working on behalf of others without being motivated by financial or material gain. Volunteering is generally considered as a selfless activity, intended to promote good or improve human quality of life. People also volunteer to gain skills without requiring to be paid any token.
Why Volunteer?
Learning

Mentoring

Training

Meet and network with stakeholders from all over the globe.

Add to your personal and professional growth through taking advantage of this great opportunity.

Also motivates Volunteers to make an impact in the society; it opens them to opportunities to meet with other young people that are already making big achievements.
If you are interested in volunteering, click on this link and join the whatsapp group for Volunteer.
https://chat.whatsapp.com/Kzfm9T9ZJTG2vmbVfqMvtj
Once you join, introduce yourself by following this procedure
Name

Sex

Current location

Area of interest to service

Phone No
Our project coordinator will call you immediately.
Contact Us today!  08036030232
To download Free Final Year Project Topics and other Research Material sorted by department
- click here
Click here: Learn How I Became A Nigeria Millionaire Blogger And How You Too Can....
- click here.
(B.Agric, MBA)
08105636015, 08076359735

Serial Entrepreneur - International Business Planning and Development Consultant - Speaker - Trainer - Author - Blogger - Network Marketing professional.

- 2018 SME Business Trainer and Coaching Advisor at GIZ (Deutsche Gesellschaft für Internationale Zusammenarbeit) for SME Loop.
- 2018 Executive Director/ Project Manager, Dayo Adetiloye Empowerment and Development Initiative
- 2018 YALI RLC Online Cohort 9
- 2017 Fellow, Inspire Africa Train-the-Trainer Entrepreneurship programme sponsored by US Consulate Lagos and the Dickey Center, U.S.A.
- 2016 Fellow, Tony Elumelu Foundation Entrepreneurship Programme
- 2016 CEO, Dayo Adetiloye Business Hub
- 2015 Top 50 Innovative Entrepreneurs, BET5 by Diamond Bank and EDC, PAU.

He is an alumnus of Enterprise Development Centre (EDC) of the Lagos Business School (LBS), Pan-Atlantic University (PAU). And Obafemi Awolowo University (OAU) Ile-Ife, Nigeria.

Through his training, mentoring, speaking and coaching programmes, he has empowered many young people over the years to start and grow their own business, build wealth, create multiple streams of income and achieve financial independence.

- He is a Certified Trainer in Design Thinking by the U.S Consulate, Lagos and the inspire Africa Entrepreneurship Institute.
Latest posts by Dayo Adetiloye (see all)