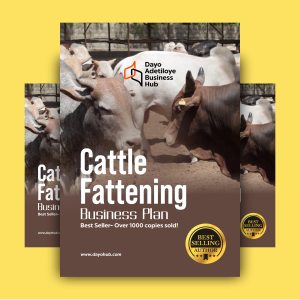 | Table of content | Page |
| --- | --- |
| Executive Summary | 4 |
| Business Description | 6 |
| Products and services | 9 |
| Market Analysis | 10 |
| Competitor Analysis | 11 |
| Sales and Marketing Plan | 14 |
| Operational Plan | 17 |
| Management plan | 19 |
| Financial Plan and Projections | 24 |
Executive Summary
Overview
PATILAD Cattle Farm is a livestock farm involved in the rearing of livestock like cows amidst other derivative products from them targeting consumers in south-south Nigeria and the country at large. We are located in Tarka Benue State Nigeria.
The Company
PATILAD Cattle Farm is established as a limited liability company owned by DayoAdetiloye, OyebadeAdejumobi, and other investors. The farm is managed and directed by Dayo Adetiloye, a veteran in the agricultural industry with over 15 years' experience and OyebadeAdejumobi, an experienced Agro-allied specialist who also has vast years of experience in integrated animal farm management.
Products and Service
PATILAD Cattle Farm is a licensed livestock farming business that gives full attention to cattle rearing, meat and milk processing and packaging for the Nigerian market and the global market. We will also produce related raw materials for industries in commercial quantities. We will also ensure that we operate a standard food processing plant as part of our complimentary business offering.
The Market
Nigeria as the largest nation in Africa presently consumes more than 8.5 million metric tonnes (MT) of cow meat(beef) monthly. Although new farms are springing up from time to time in the country, the level of production is mainly nomadic and predominantly by the Fulanis in the North. Despite the fact that commercial cattle rearing/livestock farming has been in existence since time immemorial, the industry is not near saturation; the government is seeking ways to continue to improve cattle rearing processes and also meat and milk preservation and packaging process. The fact that there is always a ready market for cattle (cows, oxen, bulls, bullocks, steers, heifers and calf et al) makes the business evergreen production system is inefficient and the market is grossly unorganized. A lot of the cow meat industry's production potential remains generally untapped.
Competition
Competitors for PATILAD Cattle Farm are Taraba Cattle Farms, Chi Farm, Fulani herds farm market. PATILAD Cattle Farm will establish its competitive edge through the expertise of its founders, its customer relation skills, tech edge, excellent products and services and affordable price model.