Attention: Watch 2020 Video on How to apply for TEF $5000 grant here and all the things that have changed in the application process. Good for student above 18 years old with good business idea.
#Ensure You Check the Bonus at the bottom of this article
25 BUSINESS IDEAS FOR UNIVERSITY STUDENTS IN NIGERIA
Ever been seriously broke in school? If your answer is yes, you're not alone. Imagine the combination of being in school and being broke. Stressful right? Seeing that the Nigerian system doesn't really facilitate working and schooling at the same time, life can be at the very best hard for university students, and frustrating at worst. Given the alarming rate of unemployment of college graduates in the country, setting and establishing financial goals while still in school is a wise decision.
There are so many options for financial empowerment available to help support university undergraduates while still in school and also to help determine a future source of income, once they become graduates. I'm going to take you through a number of options that can be useful to empowering you as a university student.
Here they are:
1. Tutoring. Are you skilled in teaching? Then you may want to deploy your skills into tutoring other students. By starting a private tutoring business, you can offer coaching sessions in the evenings and late night when college students are often up reading and studying. You can advertise your services online and also using social media especially, or you can simply solicit referrals from students in campus.
2. Freelance writing. By now I'm guessing you know that most entrepreneurial moves usually reflects the unique skill set of the entrepreneur. So, if you're a skilled writer and you've got expertise in a particular niche, you can start taking freelancing jobs. You're at an advantage because you may not need to be in any required location to take freelance jobs. There are so many sites and blogs in need of freelance writers out there. So you can take your writing skill and start generating income for yourself.
3. Graphic design. With the increasing number of internet users in the country, graphic design has taken a centre stage in the capacity of creating new websites, creating blogs, graphics online. Graphic design plays a huge role in web designing for the creation of banners, logos, and other similar materials needed to maximize website design. As a student in Nigeria, you can generate a lot of money from a single job. You can also do offline jobs like designing logos, business cards, brochures for organisations
Click Here to Download my Free E-book to write Tony Elumelu Foundation $5000 2019 Business Grant Application. You must be above 18 years to apply

4. Ushering. A single ushering job can fetch as much as #30,000 in Nigeria. This job is a very lucrative one for students. Just sign up for ushering jobs online that is relevant to you and you can start making your money while running your education
5. Hair making. Another great way of making money while in school is making of hair, whether you're a guy or a lady, so long as you're skilled in hair making, it can be gainfully used to make money and generate income. Tell people by word of mouth what you do. Move into the female hostels and market yourself. Advertise using social media platforms and you're guaranteed to make lots of money as a student.
6. Sports training. If you're into sports and you're very good at a particular sport. You should probably consider becoming a sports trainer. You can organise a fitness club and enroll members who are supposed to pay some dues as a registration fee and other required fees before they can be registered. Imagine the kind of money you can make from this business. In a society where most people absolutely love sports and are passionate about it
7. Blogging. This is a very good business for students to launch. And it is highly recommended for all students as it can expose them and increase their knowledge about a wide range of ideas and topics. You can make lots of money blogging about interesting topics that are educative, enlightening, and topics that meet specific needs of the readers. All you need is your laptop and access to the internet.
8. Event planning. Students can also go into event planning business. This is another easy way you can make money. Most events usually fall on weekdays, so this is recommended for students as it is flexible and relatively easy to startup and run.
9. Baking. Baking is a very lucrative business in any school environment, whatsoever because people love cakes! So if you're good at baking things. Start it immediately. You could even get a space within campus to showcase your pastries. You can bake cakes for occasions such as birthdays, wedding parties, shows and so on, the list is endless. Just grow your network and be good at what you do. Build an online presence and you may well be on your way to establishing yourself financially for life. This business needs creativity, which is what will sell you and make you desirable, creativity will endear you to your customers. Make cakes that appeal to different kinds of customers.
10. Tailoring. Can you sew good quality clothes? If yes. Then you can start your own tailoring business. With a fashion designing career, you can generate loads of money even while in school. All that is required is a sewing machine. If you don't have one, you could opt for hiring a sewing machine until you can afford to buy yours. Advertise your services online and on social media platforms. Paste notice bills in strategic places within and around campus and then inform your course mates. This is a very profitable business that can empower and enrich university students
11. Web design. Considering a career in web designing has huge benefits and also pays heavily. If you're not already skilled in this field, simply sacrifice sometime to learn it and as soon as you're skilled enough, you can take it to the next level. This business can generate good income for students who are industrious enough to take the plunge.
12. Bead making. Another trending business in the fashion industry, particularly among females is the making of beads into all types of wears and attires and also jewelry. Get trained on bead making and start earning lots of money. It is a very rewarding venture especially for university students.
13. Pencil drawing. Pencil drawing business is steadily gaining popularity among college students. And it also pays well enough. Nowadays most paintings are done using pencil drawing and it is really appreciated in schools. So if you're an artist and you're really good at pencil works, spread the word and start getting jobs. First you'll need to showcase your jobs online and on social media platforms like Facebook, Instagram and Pinterest . Post samples of your work in public places within school like food canteens, cafeterias, cyber cafes, business centres, lecture halls and so on. Just develop a good marketing plan and you'll be glad you ventured into pencil drawing business.
Learn How to Use Your Phone to Make Millions Through 
14. Cryptocurrency. You can also consider going into cryptocurrency investment business. There are so many cryptocurrencies in the market. The most common being the Bitcoin. Investing in cryptocurrency yields very high profits.
15. Honey sales. Selling honey is not too common among students, but is recommended as a matter of fact. If you need to generate lots of money why not try selling honey? Simply getting a good supplier, preferably a bee keeper around you. Buy or acquire containers to store the honey and then you're in business. Its really simple. You can target selling to students in hostels within campus and off camp. Its actually a fun and rewarding money making idea for university students in Nigeria.
16. Sale of artwork. Another lucrative business to consider as a student is the sales of artwork within the university campus. This business is particularly suited to students in the arts department or those with artistic skills. If you're skilled in painting, sculpturing, drawing etc. Redirect these skills into a business venture. You could even organise mini exhibitions where other students can see your artworks and also make sales.
17. Stand up comedy.we have so many talented comedians in universities who are not fully exploring the possibilities of making money from their gift. If you fall under this category of persons, you should consider going into stand up comedy. You can organise your own shows within and off campus. A student with good financial management skills is guaranteed to become quite rich.

Also Watch The Video Below
15 TOP BUSINESS GRANT OPPORTUNITIES AND BUSINESS FUNDING LOANS FOR SMALL BUSINESSES IN NIGERIA 2019
18. Retailing hair products. This business empowered me when I was in school. Unarguably women and females generally spend more money in self beautification than their male counterparts. As a university student looking for a good business to startup, considering retailing of hair products is one of the best decisions you can ever take in your life, trust me. You can retail hair extensions, hair cream, hair shampoos and conditioners, hair treatment products, hair accessories and a wide range of hair products. It is a very profitable business that is highly recommended for students regardless of gender. Market your products in school hostels, in your church, in classrooms after lectures, and even on social media, particularly WhatsApp and Facebook. Take my advice, this business can enrich you. You'll never lack cash with hair products retailing in school.
19. Production of skin naturals. Skin naturals are skin products that are made locally using natural ingredients like original coconut oil, aloe Gera, Shea butter, olive oil and the likes of them. Girls in hostels who have tried a wide range of skin care products to beautify and tone their skin to no avail are now opting for naturals, thus this business is currently in demand now among female students. You can help solve this problem by getting some training on how to produce natural skin products and start marketing them to make money.
20. Buying and selling on e-Bay. You should also consider venturing into buying and selling a wide range of products on e-bay. E-bay is an internet platform where you can carry out commercial transactions like buying and selling of anything at all that can be sold. You will need to first sign up for their services, and follow any requirements as far as the platform is concerned.
21. Sales of footwear. As earlier stated, females are very fashion conscious and are always looking for new and better ways to improve their image. The same is true for ladies in universities who are ever conscious of their physical appearance. And as such, it will be very profitable and a smart thing to go into selling of all kinds of footwear's for students. Start retailing male and female shoes,( particularly females) sandals, slippers, Pams, belts, flip flops etc. Its a flexible business and any student interested in doing it can easily combine it with their studies, of course you Don't need a shop space, just move around with your goods for marketing.
22. Social media influencing. Another great way of making money while in school is social media influencing. Social media influencing is a form of advertising on social media. In this case, people with a large following on social media use this medium to reach out and advertise products and services of contracting companies. So, if you're a social media influencer, you can be contracted by a company or companies, to advertise their products or services. This is a really cool, laid-back way of making money for students. Try it!
23. Open a canteen. This is a great way of making serious money in school. However, the startup phase can be time demanding. To solve this problem, employ at least two extra hands for a smoother running of the business. Food business is the surest way of making huge earnings in school and comes next to nothing.
24. Real estate agency. You can also become a real estate agent as a student, as it is really flexible and pays well too depending on your sales outcome.
25. Phone and computer repairs. This business is thriving and generating income for people. So, if you're skilled in phone and computer repairs. Its good news. Just get a small space in campus, if you want, but its really not necessary, with a good marketing strategy in place, you may not need to be fixated on any particular location.
Unleashing Your Entrepreneurial
Potential for African students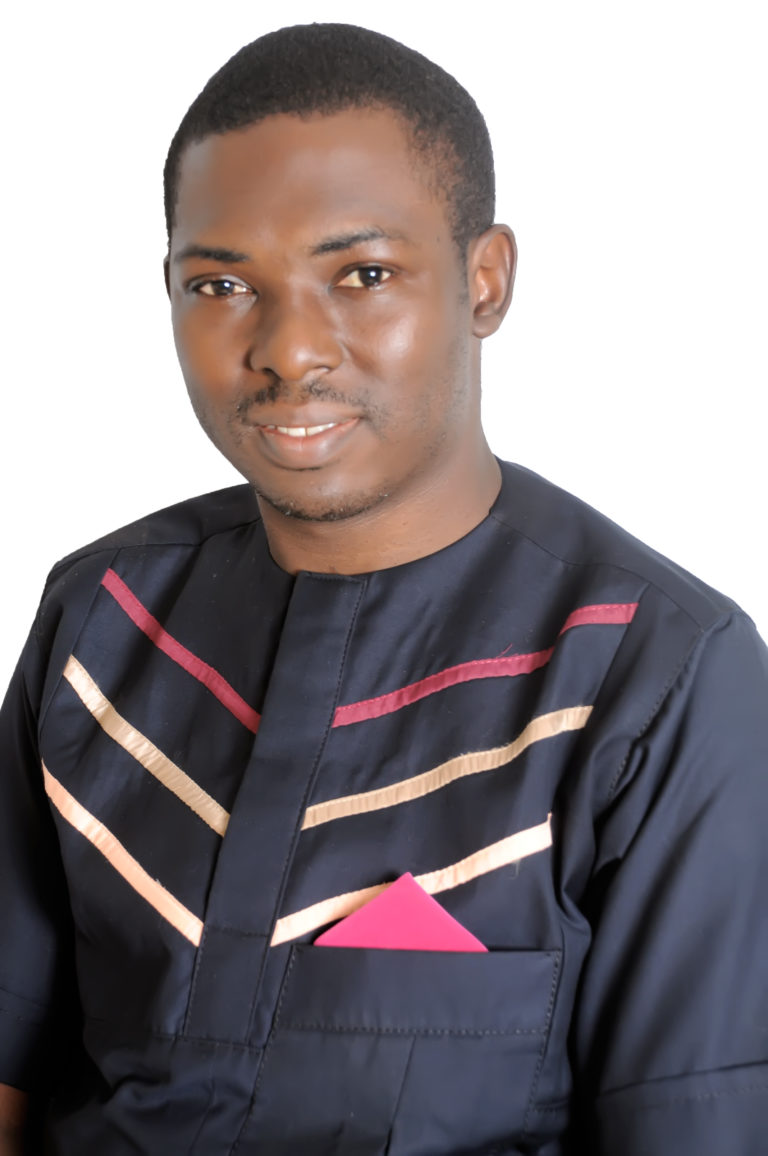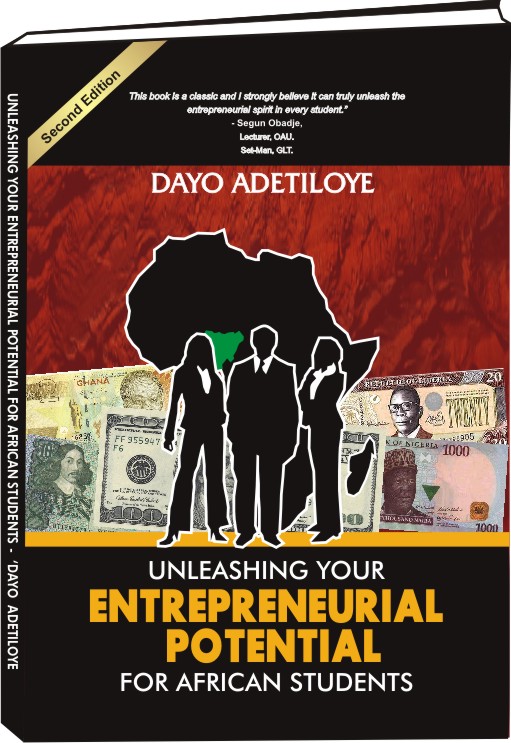 Buy
this E-book and Kiss poverty goodbye even as a student!
Now, You don't Have to Graduate into Unemployment!
This book will teach you how to:
Use your talents to earn regular income as a student

Acquire skills for self-reliance

Become an entrepreneur for financial freedom

Excel academically
My Dear Student,
Do you desire to build your capacity for business?

Is your pocket money too small to sustain you in school?

Do you always have money problem as a student?

Do you desire to always have money beyond the one your parents and uncles give to you at home?

Do you desire to combine Academics with Business?

Do you desire to learn business?
If you answer YES to any of the questions above, then your solution is here!
Unleashing Your Entrepreneurial Potential Book is your Solution.
And why should you buy this E-book?
I graduated about 8 years ago from Obafemi Awolowo University, (OAU) Ile Ife, Osun State, Nigeria where I studied soil science from faculty of Agriculture. I have my Masters in Business Administration  (MBA) from same OAU. I have a Certificate in Entrepreneurial Management (CEM) from Enterprise Development Centre (EDC) of the Lagos Business School (LBS), Pan Atlantic University (PAU).
I have been featured as one of the top 50 Budding Entrepreneurs Today (BET) by Diamond Bank and I have also been featured as one of the top 1000 entrepreneurs in Africa by the Tony Elumelu Foundation (TEF).
I am saying all these so that you will know that I have been in your shoes before and by the grace of God, I have grown to where I am today and I am more than passionate to help young people like you succeed!
As a student, I did several businesses and was looking for a book that could help me combine academics with business but I couldn't find any book that explains it well.
And that was it! This was the question that I needed to answer for my generation. And that was what birthed the idea of this book.
So, here comes the book:
Unleashing Your Entrepreneurial
Potential for African students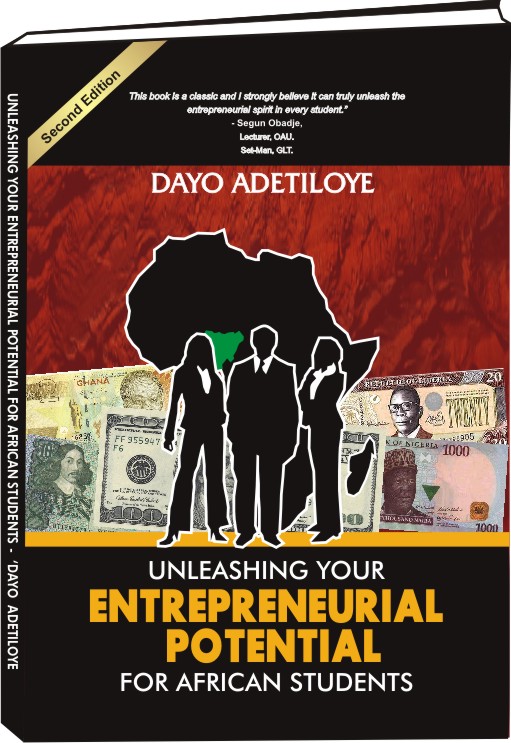 Some of the information here, I have used them to train National Youth Corp Members (corpers) during their 21 days NYSC Orientation Camps for Skill Acquisition and Entrepreneurship Development training (SAED).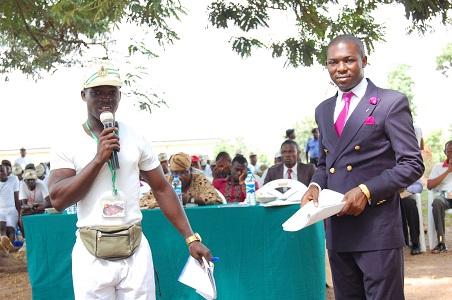 Buying and implementing this book at your level is a big blessing.
Entrepreneurship principles is the same either as a student or as a graduate, small or big business or multinational level.
Hear what lecturers, pastors, parents, students, motivational speakers and business leaders are saying about this book: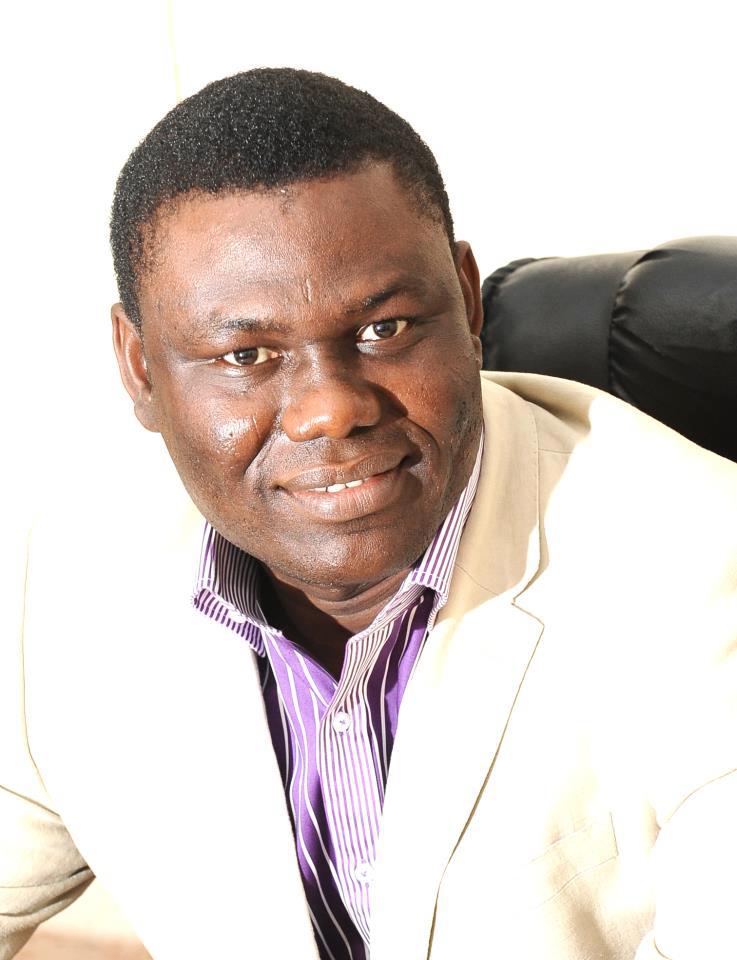 "This book is a classic and I strongly believe it can truly unleash the entrepreneurial spirit in every student."
– Segun Obadje,
Set-Man and Senior Pastor,
God's Love Tabernacle Int'l Church.
Lecturer, Obafemi Awolowo University.
" Dayo has distinguished himself as part of the group of doers by placing
this book in the hands of young people who must stop waiting — and most create opportunities. In Unleashing Your Entrepreneurial Potential (For African Students), Dayo offers tips that are sure to lead students towards the opportunity of making the best of their school years.  The tips that Dayo discusses in this book will help students develop skills that will make them maximise their school years. Read this book, and make sure you practice the principles of success in it. Unleash your entrepreneurial potential!"
'Gbenga Sesan,
Executive Director,
     Paradigm Initiative Nigeria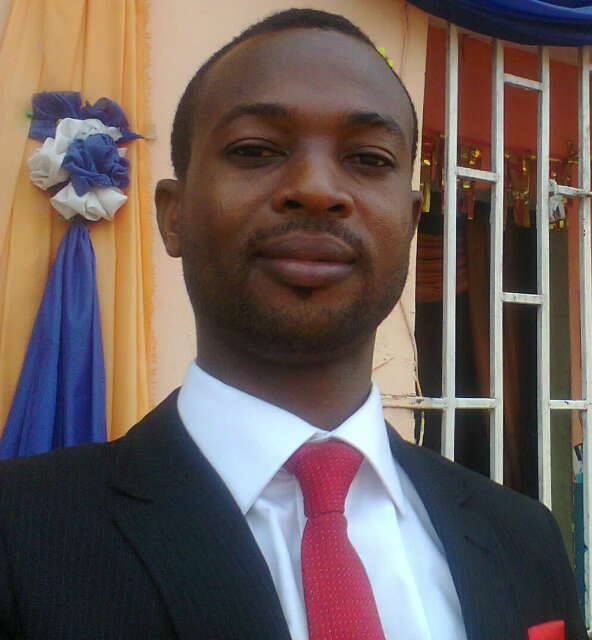 "This book bridges the missing link in our education system. There is no better time to teach students and youths the skills in this book than now, as it will liberate them from financial bondage to become financially independent.
I therefore, strongly recommend it to be used as text-book in our secondary schools and higher institutions.
– Favour L. Idogun
Founder and President,
Inspiring Students Unlimited Network (ISUN)
This book is uniquely designed to help unleash the entrepreneurial potential of both students in higher institution and young secondary school students that are about to gain admission into higher institution. It is a must read!
– Bunmi Arowosafe
Proprieteress,
Life Moulding School (LMS)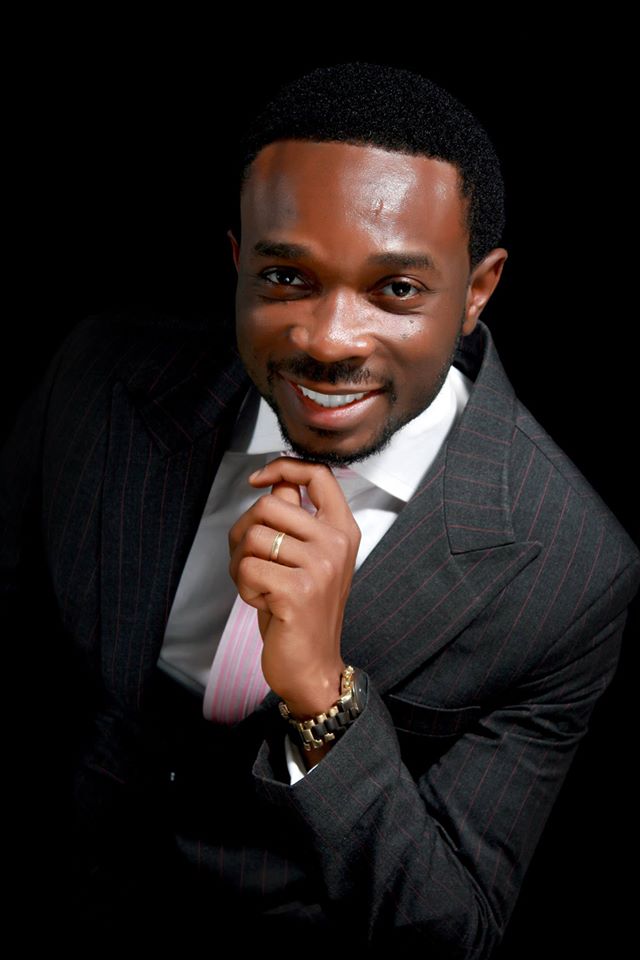 "I particularly recommend this book for its simplicity approach as well as the practicality employed by the author. Here is a material that contains instruction on how to strike a balance and succeed in academics and enterprise at the same time. It is a good read!"
– Peter Alabi
Lead Pastor,
Rhemaword International Christian Center.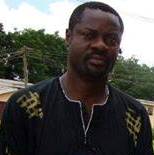 "I recommend this book as a manual for every student and young entrepreneur with the dream and vision of becoming an employer of labour instead of a job seeker"
-Saint Kunle Agboola
Lecturer,
Federal University of Agriculture, Abeokuta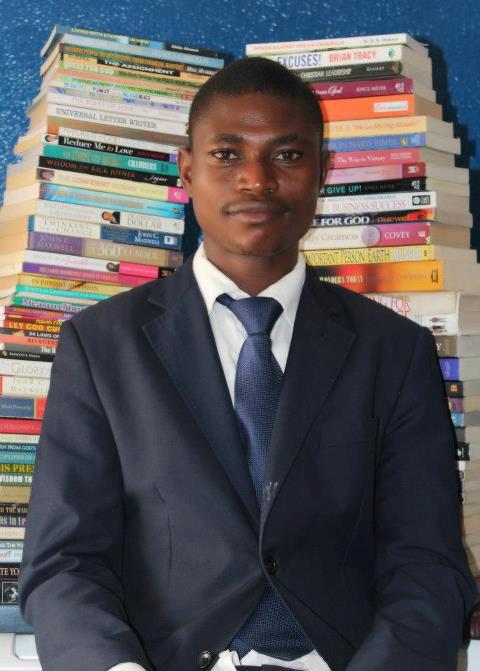 "This book does not only instruct but also inspires, easy to read but difficult to forget. Many people will read and reap the benefits for a lifetime. What a deep wisdom mixed with common sense. Unleashing your entrepreneurial potential is a matter of priority and urgency in this generation."
– Andrew Ajeigbe
Coordinator,
Society for soul.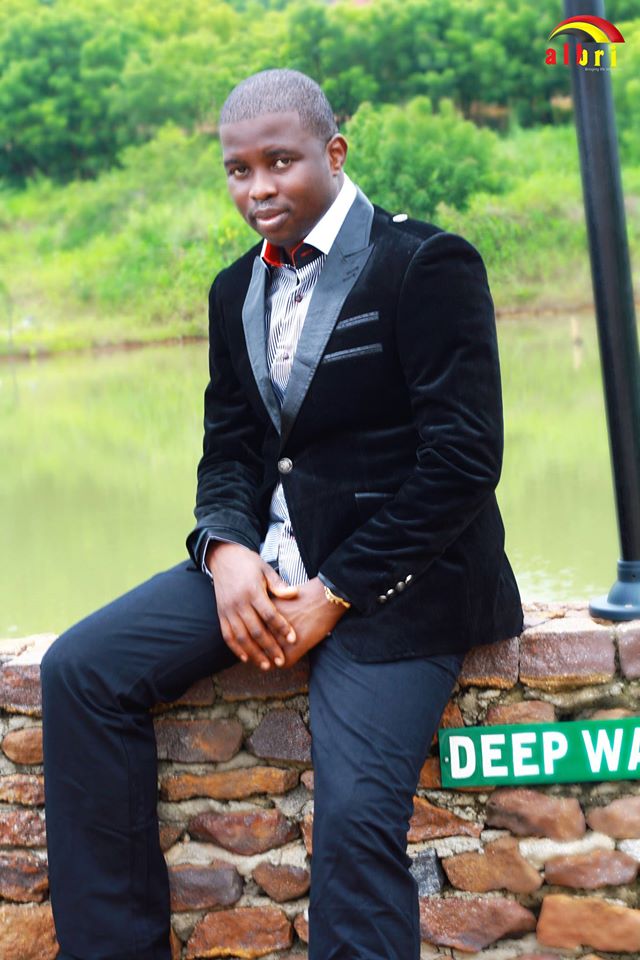 "I encourage students to take advantage of the powerful insights shared in this book. This book will inspire and motivate you to greatness.
I wish I had access to the book while I was in school."
– Seyi Awobadejo
Coordinator,
Wisdom Training Center.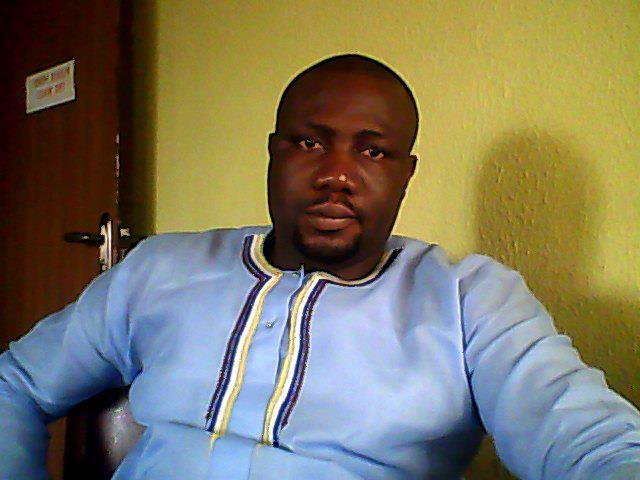 "Incisive and straight to the point! Dayo has answered the very many questions of all would-be entrepreneurs. If I had known some of these truths as a student, I would have doubled my present status. This should be a guide for anyone aspiring to venture into business now or in the future."
– Kamal Oyedule
Managing partner, Impetus Tactical Solution.
 What I did with a lot of money I made as a student?
I studies agriculture so, I did fish farming and poultry farming in my 200 level days.

I learnt computer and phone repairs, hard ware and software and I made money from it.

I did photography business. I was in Shekinah subgroup in my fellowship and I used the skill of photography to make money from my classmates.

I sold different products ranging from clothes, books, cards, kerosene, etc.

I started my seminar and business consulting outfit as a student.
Most of the money I made, I used them to buy books. When I graduated, the worth of my library can conveniently buy two cars. I knew at that time that knowledge is my greatest investment.
Today, I consult for individual, small business, government agencies and multinationals.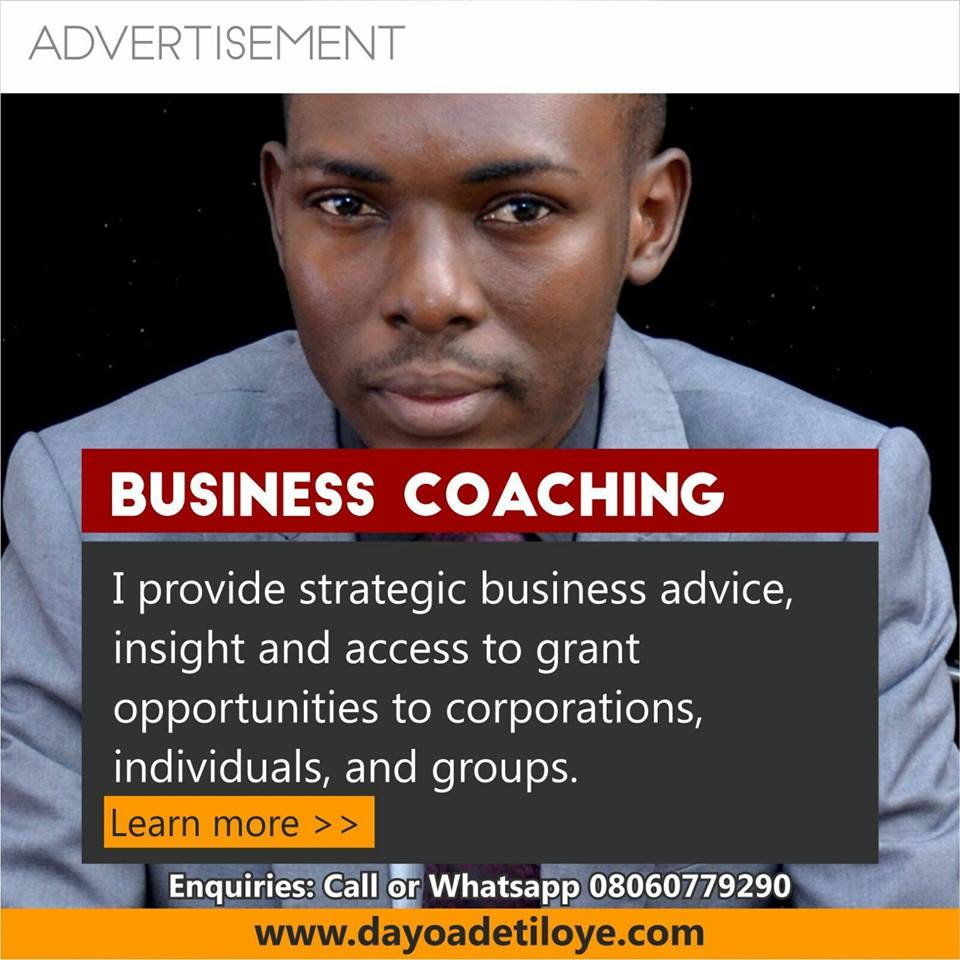 My new profile is Dayo Adetiloye is a successful Serial Entrepreneur, International Business Planning Consultant, Speaker, Trainer, Author, Blogger and a Networker Marketing professional.
Through his training, mentoring, speaking, coaching programs, and accessing grant opportunities in Africa via www.dayoadetiloye.com,  he has empowered many young people in the last 5 years to start and grow their own business, build wealth, create multiple streams of income and achieve financial independence.
He is the convener of the popular Igbara-oke Youth Empowerment Summit (I-YES) in Ondo State, Nigeria. http://www.igbaraokeyouth.org/
He is the CEO of Dayo Adetiloye Business Hub (DABH). And he sits on board of several businesses.
He generally helps people to discover, develop and fulfill their business potentials.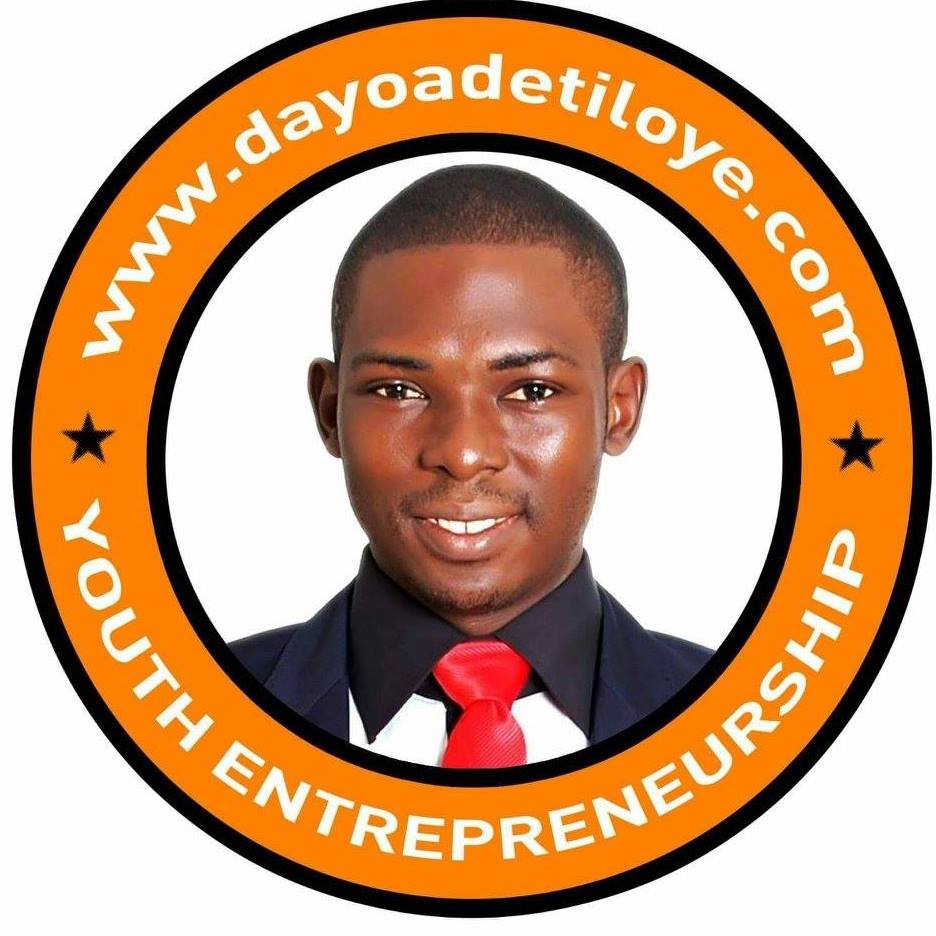 Check out some content of the Book
CHAPTER 1
SCHOOLING FOR A REASON
"This is the time for everything under the sun" –King Solomon
CHAPTER 2
UNVEILING THE STUDENT ENTREPRENEUR AND HIS CHARACTERISTICS
"Entrepreneurship will become a core skill which all our young people will need to exploit the opportunities emerging from science and technology, culture and communications." –Tony Blair
CHAPTER 3
PATHWAY TO ACADEMY EXCELLENCE
"Excellence is the attainment of the highest level of quality and perfection. Being excellent means becoming a person of distinction." –Dag Heward-Mill
CHAPTER 4
BALANCING ACADEMICS EXCELLENCE
"No one lives long enough to learn everything they need to learn starting from scratch. To be successful, we absolutely, positively have find people who have already paid the price to find people who have already paid the price to learn the things that we need to learn to achieve our goals." –Brain Tracy
CHAPTER 5
HELP FOR THE ACADEMICALLY CHALLENGED ENTREPRENEUR
"Failure is only the opportunity to more intelligently begin again." –Henry Ford
CHAPTER 6
BUSINESS OPPORTUNITIES IN THE HIGHER INSTITUTION
"Finding something you like to do and make it pay." –Harvey B. Mackey
CHAPER 7
PERSONAL DEVELOPMENT
"It better to be prepared for an opportunity and not have one, than to have an opportunity and not be prepared." –Glen A. Mc Quirk
CHAPTER 8
MIND YOUR MIND
"Whether you think you can or whether you think you can't…you 're right" –Henry Ford
CHAPTER 9
GENERATING BUSINESS IDEA AND OPPORTUNITY
"Every business fortune is built on ideas." –Bishop David Oyedepo
CHAPTER 10
HOW TO GET THE STARTING CAPITAL
"Provision follows vision. A venture so passionately planned with unwavering effort to make it succeed is bound to attract; it succeeds and is bound to attract its material equivalent." –Ayo Adedeji
CHAPTER 11
STARTING OUT
"Everything you see exist because someone, somewhere had an idea that they acted upon"
–Glen A. Mc Quirk
CHAPTER 12
ON YOUR WAY TO FINANCIAL FREEDOM
"But thou shalt remember the lord thy God, for it is he that giveth thee power to get wealth, that he may establish his covenant which he sware unto thy fathers, as it is this day." –Deut. 8:18
CHAPTER 13
DEVELOPING YOUR MARKETING, SELLING AND NEGOTIATING SKILL
"There is only one boss: the customer. And he can fire everybody in the company, from the chairman on down simply by spending his money somewhere else" –Sam Walton
CHAPTER 14
ACADEMICS, BUSINESS MODELS, AND STRATEGY
"Money flows in the direction of those who sit down to sit definite goal and think through on how to accomplish those goals." –Sam Adeyemi
CHAPTER 15
MULTIPLE STREAMS OF INCOME
"All wealth comes from adding value, from producing more, better, cheaper, faster, and easier than someone else." –Brain Tracy
CHAPTER 16
SOLVING PROBLEM OF MULTITALENTED ENTREPRENEUR
"When you focus on your focus, you will soon be focus of those around you" –Andrew Ajeigbe
CHAPTER 17
NETWORKING STUDENT ENTREPRENEUR
"You can't fly with the eagles if you keep scratching with the turkey." –Zig Zigler
CHAPTER 18
SUCESSFUL PERSONALITIES OF STUDENT ENTREPRENEUR
"Success seems to be connected with action. Successful men keep moving. They make mistakes but they don't quit." –Conrad Hilton
CHAPTER 19
ENTREPRENEUR AFTER SCHOOL
"The price you pay for life today determine your value tomorrow." –Bishop David Oyedepo
CHAPTER 20
LAST WORD
A  Small jack can lift up a great car; small hinge moves great doors and small keys open great locks.
It is my heart desire that every student reading this book has a
turnaround in both their academics and businesses. Life never gives you what you
deserve but what you decide.
The price of the E-book
The price of this book is N1000.
Yes, it is at a give away price because of the quality and value of the information in the book.
However, because this project is dear to my heart and I want as many people as possible to be able to buy it.
Option 1
How to pay and get your copy,
Click Here to purchase Online and Download Instantly the E-copy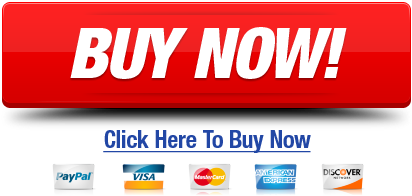 If you want something bad enough, you will find a way,
if you don't, you will find an excuse.
BONUS
If you purchase this e-book,
I will add you to my WhatsApp group called SME Group (Student Millionaire Entrepreneur) where I mentor students on business and general life issues.

You can ask me any question and receive from my enormous wealth of wisdom and skills.

I will introduce you to some of the latest business opportunities and business funding opportunities in terms of Grants.

We have success stories of people that have won Grants within the range of N1million to N10 million through Grant opportunities like YouWiN, BET, Tony Elumelu Foundation Grant, GEM etc.
Money Back Guarantee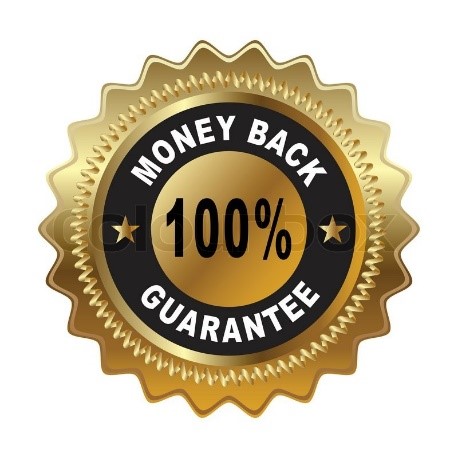 If you buy and read this E-book and after finish reading, you did not get any value from it, call me and I will refund 100% of your money back.
My dear student Entrepreneur,
Greatness is waiting for you.
Your dreams and visions are possible.
Action is the blood of every vision.
Remember Every vision thrives on knowledge.
Grab this opportunity while it last.
Till I see you in our SME WhatsApp group,
Keep succeeding!
Dayo Adetiloye (B. Agric., MBA)
Customer Care line- 08076359735,
Line Open Between 9am-5pm
SMS/WhatsApp- 24hrs
SEND THAT SMS NOW! 08076359735, 08142421123
Here is how to buy again
You can buy the book Unleashing your Entrepreneurial Potential for African Students online and download immediately
Click here to pay immediately and download the E-copy
https://paystack.com/pay/unleash
Or

Buy the Hard Copy from my office

Dayo Adetiloye Business Hub

No17, Community Avenue, magboro, lagos-Ibadan express way
Looking forward to starting your own business as a student? Kindly contact me on 08060779290 or you can also send us a direct mail at dayoadetiloye@gmail.com
Bonus

Join Recharge and Get Paid Telecomunication Business with just N5000 now. All you need is a phone that can browse and begin to make millions.

Call or Whatsapp me on 08060779290
Join Recharge and Get Paid Telecommunication Business with just N5000 now. All you need is a phone that can browse and begin to make Millions.
Call or Whatsapp me on 08060779290